Give Your Business the Cloud Hosting Platform You Need to Grow.
Nexcess believes in the promise of the Cloud: scalability, security, performance, and ease of use. Together with our team, clients, and partners we've built something better.
Whether you're a small business or a high traffic eCommerce site, our application-specific environments are designed around your needs. Auto scaling, PCI level security, open source hybridization, and comprehensive development tools provide maximum dynamic flexibility in a fully managed environment.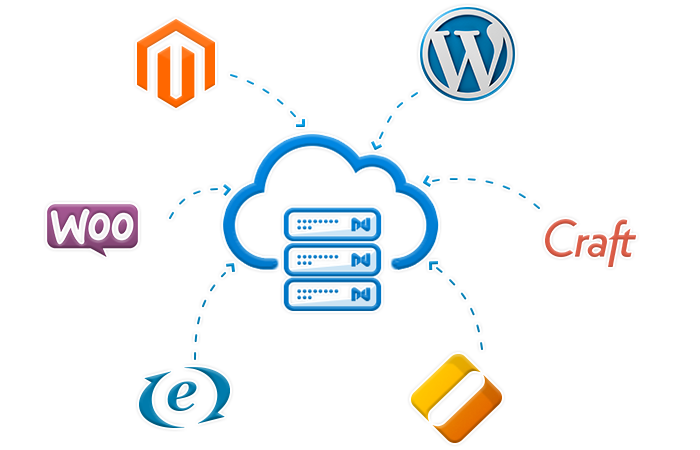 Rapid Setup
Go from checkout to live in just minutes with our XS, S, and M shared cloud platforms. For our L, XL, and 2XL dedicated cloud platforms, setup is less than 3 hours.
Auto Scaling
Increase the number of additional concurrent users you need automatically based on defined algorithms. Not sure if you need Auto Scaling? We'll cover your first day of spikes, then simply opt-in and only pay for the resources you use.
Instant Upgrades and Downgrades
Move between different shared or dedicated Nexcess platforms in an instant. All you need to do is confirm your choice through the Nexcess Client Portal and the automated transfer will begin.
Nexcess Owned and Operated Data Center
Nexcess owns and operates the data center your website is stored in, meaning we can provide the best in terms of control, security, and management.
Fully SSD with RAID
When it comes to cloud storage, our data centers use SSDs and RAID in order to make sure your website isn't restricted by slower or faulty hardware. It's fast, reliable, and safe.
Nexcess LAMP Stack
Stay secure and up-to-date with the most widely-supported, enterprise-level Linux distribution available. Based on Red Hat Enterprise Linux, CentOS 7 is the most stable release yet with several improvements over previous versions.
Open Source Hybridization
With a combination of open source and proprietary technologies, including OpenStack, Kolla, Docker, and Ansible, we make sure your platform has both the flexibility and performance it needs.
DNS
With 8 DNS nameservers divided between both Amazon Route53 and Dyn, your DNS records will be secure, fast, and reliable. Moreover, as Nexcess handles DNS alterations internally, any service changes you make will be updated immediately.
Full Control Through the Client Portal
Manage everything through a single login with the Nexcess Client Portal. This allows for advanced site monitoring, visitor tracking, billing integration, and access to the hosting control panel.
Create Multiple Users and Permissions
Create multiple users, each with different permissions, and make managing your website as simple as possible.
Email or Email Hosting
Don't just host your website in the Nexcess Cloud, host your email accounts too. We let you do everything in one place, ensuring things are as simple and efficient as possible.